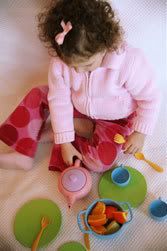 Plastic has taken such a beating recently. We try and try to avoid it by using reusable bags at the grocery store and refilling aluminum refilling rather buying disposable water bottles.
So why, on the dawn of Earth Week am I sharing a (GASP!) plastic toy? I avoid them year round, yet here in April of 2008 I chose to review an extraordinary plastic toy: toys made by Green Toys are entirely Earth-Friendly!
Green Toys uses recycled milk cartons as the main ingredient in their toys. The same milk cartons that we recycle each week are then separated out from other recycled items and reprocessed into high-density polyethelene (HDPE). One of the safest plastics available.
They're also made in the USA (California, to be exact). Which means less transportation; which as we know equals less energy. Speaking of saving energy, "every pound of recycled milk jugs used in making Green Toys saves enough energy to keep a laptop computer running for a month." (Which makes me feel pretty good as I sit here lounging on my laptop.)
Their packaging is completely recycled cardboard: no plastics, no cellophane, no twisties. Oh, and did I mention they're made in the USA? We all know the bit of safety involved in that. Green Toys passes the USA & California toy tests, AND they voluntarily test for bisephanol-A.

All that, and they're wonderful toys. Created for hours of fun at pretend play, Green Toys are available as a kitchen set, tea set, sand toys, and gardening set. But to feel them is surprising. The bucket isn't a typical bucket of dollar-store feel. Its thick and sturdy. I'd feel totally safe with a 1-year-old mouthing it. And completely secure in that my 2 or 4 year old will get years of play at the beach.
Brand new last September, Green Toys was a Toy Fair favorite by many a reporter (including this one and TDMonthly.) Available at over 300 stores including Amazon.