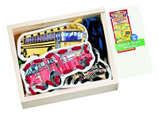 This year is the first year my three-year-old has actually requested gifts from Santa. And it's all about who has what and something he saw. When you ask him, he'll answer, "I want the car with the wheels that come off, like Carson has." Or, "I want the seatbelt thing that Zach has," and most recently, "I want the cars with the string that Matthew has."
Of course, we can't always decipher or find what he's actually describing but this latest request I was able to track down with the help of some Mommies with Style members on our message boards. It's the Melissa and Doug Lace and Trace Vehicles.
I ordered them from Gummy Lump, a great site that has tons of Melissa and Doug and other wooden toys. They have good prices and they offer free shipping on orders of over $30 (not hard to do!). And I got them to hook us up with a coupon code, so shop today! There's a few more days left on the free shipping deal too.
Use coupon code Mommieswstyle for 10% off your order on Gummy Lump.