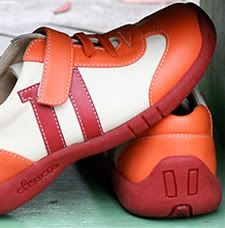 "Mom, watch me jump!" Jump. "Mom, watch me jump again!" Jump. "Hey Mom, did you see how high I jumped?!" Jump.
No, Carson isn't wearing springs and he's not bouncing on a pogo stick, he's just wearing his newest pair of stylin' shoes, Martin by Eleven. His pair are very vintage in a blue suede with a velcro closure. So simple for him to take on and off (which for a four-year-old is a very good thing!)
The shoes are L.I.G.H.T. Really. I'm thinking a bag of feathers against this on a scale could be a close competition. The rubber soles are, of course, the cushioned bouncy part. I asked Carson why he loved bouncing so much? How it feels? "It feels good." Prying for more, I asked, "When you jump really high, does it sting your feet when you land?" "No, Mom," he replied. "My feet bounce." "Like landing on pillows?" I questioned. "Yeah, or jumping on my bed." Which made for a quick change in direction to a discussion of not following the rules. But I digress.
Eleven, a sister company to See Kai Run, makes shoes for bigger kids. I'm very impressed with the originality of the line in their unique and bright colors and combinations, as well the kid-friendliness of the shoes. They're wearable, they're take-on/take-off able. And they're wonderful for the bigger kids feet. One of my favorite features is the padded collar, which the SKRs have as well. There's nothing worse than a blister on the back of the foot, and the padding in this area eliminates this opportunity. The shoes are also extremely flexible which is so important because as all parents of preschoolers know, kids need to run and play… and JUMP in their shoes. Shoes that offer support with strong heels and ankles, minor arches (you still don't want a big arch as the foot of a child of this age group is still forming on its own) and a strong, cushioned sole are exactly what we as parents are looking for. The people at Eleven did their research and came up with a winning design.
Use code MWSeleven for 10% off your order at Tiny Soles.