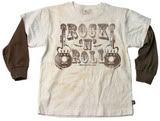 I'm loving this tee from Wes & Willy for the fall. We recently got this tee, along with these Wes & Willy nylon pants and the outfit is too cute. Of course, we haven't been able to wear it other than to try on with this wacky 80-degree October weather, but I hope to send my almost 4-year old to school in this soon.
The Kiddie Closet has some cute stuff from Wes & Willy, as well as a ton of other great designers including Tea Collection clothes, ShooFoo shoes and more.
These Shearling Baby Booties by Little E.D.A. are also adorable for baby for the winter. Gwyneth Paltrow, Courtney Cox, and Kate Hudson have all put their kids in these and I wish they had a pair for adults because I'd be all over them.
Use coupon code STYLE for 15% off your order at the Kiddie Closet.