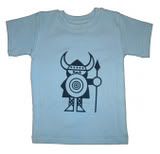 So as a Mom of two boys, I find myself always having to go that extra mile to find "cute" clothes for my kids. (Cute girls stuff is everywhere, it seems.) So one of the reasons I started this blog and love doing this site is that I'm privy to cool boy lines and boutiques.
Here's one that's been right under my (and your) nose all along and I'd be remiss if I didn't mention it again – Ciaran's Rumblefox line, sold at her Funday Shop. Because writing isn't her only talent – she designs totally cool clothes too. I've been putting the baby in this Viking Tee, which I think is the coolest ever (and extra long to cover his diaper line). And the Baja String Art tee has to be seen in person because it's amazing detail, and the name of this tee – "the Anger Management" tee just cracks me up. (Click to see what an Anger Management Tee looks like!)
Enter MWS20 for 20% on all Rumblefox and Sundress orders on the FundayShop. Also put "aprilshowers" in the comments.