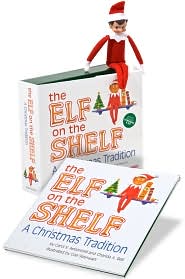 Print out the in-store coupon for 30% off Elf on a Shelfat your local Barnes and Noble.  It's valid until December 6th.
My kids are obsessed with our Elf.  He's here for the third year in a row and returns each year the day after Thanksgiving.  Each day he appears somewhere else in our house and watches over them to make sure they are being good.  Each night Bob (the kids finally gave him a name) reports back to Santa.  Best good behavior motivator ever! 
The Elf on a Shelf comes with an Elf and story, it normally retails for $29.95 at Barnes and Noble.