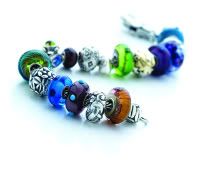 Every year on Mommies with Style we chat about gift ideas for our kids, our husbands, family, friends, ourselves and more. One of the most popular gift ideas is customized jewelry that represents our children and family.
I was recently introduced to Trollbeads, an amazing line of luxury charm bracelets perfect for mothers who want to commemorate meaningful events and milestones in their children's lives. Every Trollbeads bracelet can be custom designed with individual beads that represent a personal story. The beads can also be easily interchanged to create countless new looks. That's why these beautiful, eye-catching bracelets are extremely popular with moms because each bead represents a story and holds sentimental value for the wearer.
These bracelets, which you create, are gorgeous. Each bead is intricate and beautiful, and has a substantial feel to it. The bracelet I got to try was a holiday bracelet, with fiery red beads, silver, and white accents. It would be perfect to wear during the holiday season and beyond.
Check out the Trollbeads website and have fun browsing all of the fun beads available. Create a wish list of your favorites and pass it on to your favorite gift giver!