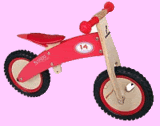 The "balance bike" is becoming really popular. This is not your typical $30 first bike you find at Toys R Us that's all shiny metal with a set of training wheels.
The Bugabike, made by Sambama, is a first bike, but it's a balance bike, meaning it has no training wheels or pedals. These bikes are designed to teach your child to use their feet to move the bike around, and in doing so, they are learning the art of balance on a bicycle. It's a simple design and a cool concept.
Made of good old-fashioned wood, these bikes are small and sturdy. They're made for children ages 2-6 years old. Because of it's solid construction, they guarantee it for at least three years – or your money back.
Balance bikes are actually not a new concept – they have been popular in Europe for years but are only just gaining popularity in the US. Why a balance bike? It teaches coordination, builds muscle strength, encourages physical activity and it gives the kids the confidence needed to transition to a pedal bike (without training wheels) when the time comes.
You can buy the bike on Bugabike.com. Bugabike is offering 15% off to Mommies with Style readers. Their cart won't accept coupon codes, so mention Mommies with Style at check out and they will refund you 15% off the sale after purchase.