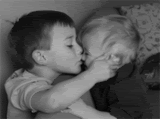 So normally I shy away from having any of us do "local" type reviews. Since this is a national site, I want all of our reviews to be all plays. But every now and then, there's something cool in LA that's worthy of a post from Ciaran… and I now have something I couldn't avoid posting for all you Philly girls. (There's a lot of us here!) So if you don't live in Philly, you can move along and scroll down. But if you do live in Philly, read up!:
Dina Rose was my wedding photographer almost seven years ago, and I've been using her and referring her for children's portraits since having Nate. Her pictures are beautiful and she's so incredibly talented. But don't take my word for it – visit her website and check out the children's photos.
And the reason for my review? She normally charges $250 a session. That gets you an hour and all of the photos she's taken. (which is just so much better than Picture People or anywhere else – here you own all the photos. She sends you a disc with all the photos and you can do with them what you will – send to Snapfish, order them in different sizes, etc.) She comes to you – which is nice because your kids are relaxed in their own setting (or if it's nice, go to a park and get some great outdoor shots…)
So for Mommies with Style Philly readers she's offering an exclusive – $100 off for the months of Jan-March for a total of $150 for a session. Check out her site and drop her a line to book your session now.