Could this holiday product be any more fun? Ringo Baby offers the usual gorgeous holiday card and birth announcement designs, but the "something different" here are the Holiday CD covers.
Select one of the holiday designs and they'll apply it to a holiday CD cover – liner notes are printed on the inside jacket cover, there's a CD holder and she prints her designs onto CD labels. At your end, you select your holiday music, burn your CDs and put it all together once you receive your package from Ringo Baby. I think this is just so unique and fun and I'd love to receive something like this in the mail. And I think I'm having even more fun putting my Christmas mix together for my own order. iTunes will be making some money off me this holiday season.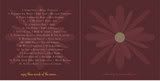 Have your family holiday pictures printed on the front and back and add your own special message.
CDs are 5×5 so they mail in square envelopes. They weigh just under an ounce so it's standard postage for square envelopes of 58 cents each. Check out all of the fun designs on Ringo Baby, including the Holiday CD covers, and use coupon code MWS15 on your order of anything on the site.