The following is a paid Advertorial from Babyhawk: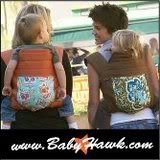 Babyhawk Mei Tai Baby Carriers are derived from an ancient asian design that makes carrying your little one as Safe as it is Comfortable! This design was created by a Mom, Robyn Collar, after discovering there was nothing on the market that would allow her comfort and fashion while caring for her second child, came up with the idea and design that is known today as "BabyHawk".
Designed to be worn on the front, back and hip, Babyhawk Carriers combine Style, Comfort and Function to make the Perfect Accessory for the Fashion Conscious Parent! With carriers offered in both Regular and Toddlerhawk sizes, they will fit children from newborn right on up to Toddlers weighing 40 pounds!
Look Great, Feel Great! Millions of Combinations, Be Different!
Use coupon code "baby" for free shipping.