The following is a paid Advertorial from Beautiful Futures: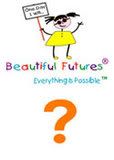 Beautiful Futures Has a Question for Your Child
Their answer could earn them a $2,500 savings bond. It could also end up as our newest Beautiful Futures tee to be sold world wide.
Wow!!
New York City based Beautiful Futures celebrates its philosophy that 'Everything is Possible.' Its line of inspiring and super cute tees have been sold in high end boutiques in six countries, Nordstroms, Petit Club Med and prestigious art museums such as the Art Institute of Chicago and The Guggenheim. Online customers order from as far away as Australia, Japan, Europe and the Middle East.
So, what are you waiting for?? Find out what our question is right now. Ask your child and then email it into us. Imagine how proud he or she would feel if their response was selected and turned into our newest Beautiful Futures tee to be sold worldwide. Hey, and a $2,500 savings bond is nothing to sneeze at.
Our friends at the fabulous learning company, Hooked on Phonics know the question. Now, it's your turn.