The following is a paid Advertorial from Chittypulga:
PARTY DRESSES SHE WILL WEAR MANY TIMES!!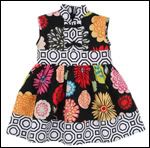 Are you, like many moms, finding yourself in a dilemma, loving a gorgeous dress for your little girl, but not willing
to pay so much, for something she will wear only once? Then, Chittypulga has a nice option for you!!
RedFish Kids is a NEW line of gorgeous dresses for toddler princesses, inspired by the street fashion in Asian cities like Tokyo and Shanghai. Made of 100% durable pre-shrunk cotton, their styles are made to grow with your child.
Never too short or too tight, they easily turn into smocks combined with leggings and tees.
Check our selection of vibrant prints and different styles and receive a 10% OFF on any RedFish Kids dress until Sunday, April 20th.
…And while you are visiting Chittypulga, check THE CORNER SALE. We are having a CLEARANCE event with discounts of 50+15% on clothing and accessories by Tea Collection, Zutano, Posh Baby and more… Don't miss it, quantities are very limited!!