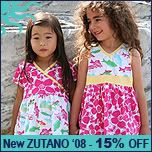 The following is a paid Advertorial from Chittypulga:
ZUTANO PRE-SUMMER EVENT!!
SAVE 15 TO 65% OFF
Mommies with Style – it's is time to shop and fill up your little one's closet with Zutano. A stylish collection of easy-to-wear outfits,made of 100% cotton with modern prints, vibrant colors and soooo comfy…
Visit Chittypulga's Pre-Summer Event!!
Get 15% OFF any item from the NEW line of Zutano Collectibles '08. Check our selection of Baby Basics including blankets, bibs and hats at 20% OFF. Clearance Alert!! We have added Zutano Collectibles '07 to our SALE CORNER, with 50+15% OFF every single piece.
All discounts are applied automatically, when products are placed in the shopping basket.
Free Ground Shipping over $100.