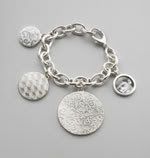 The following is a paid Advertorial from the Fine Art of Family:
Family is always in fashion at The Fine Art of Family, a beautiful website dedicated to the distinctive locket and photo jewelry designs of professional photographer and designer, Monica Rich Kosann.
Monica, a gallery-exhibited, fine art photographer specializing in black and white portraiture of children and families, realized that there is no better gift than a beautiful photograph beautifully presented. Inspired by her visits to flea markets and antique shops, she began showcasing small photos for her clients in restored lockets, compacts and other precious heirlooms. When demand grew, Monica began having the pieces made, many by the original old-world craftsmen who created the vintage pieces.
TheFineArtofFamily.com features these vintage-inspired Sterling Silver and 18K Gold lockets, jewelry and gifts so mothers can treasure their favorite memories in these modern day heirlooms.
Visit this lovely site and receive free ground shipping through December 31 with code MWS1107.