The following is a paid advertorial from the Fine Art of Family: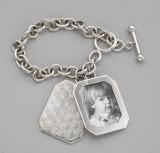 Think back to your favorite gift. It was likely not the most expensive or extravagant. Chances are it was personal and heartfelt like a photo of a loved one. That's the concept behind The Fine Art of Family, a collection of distinctive lockets and image case jewelry and gifts created by professional photographer and designer Monica Rich Kosann.
TheFineArtofFamily.com features vintage-inspired Sterling Silver and 18K Gold pieces so mothers can treasure their favorite memories in a modern day heirloom. From traditional two-picture lockets detailed with Monica's signature floral pattern to bracelets that can hold multiple photos, there is a style for every woman.
The site also showcases a wonderful selection of Sterling Silver gifts organized by Him, Her and Home, so you can easily find a thoughtful gift for parents, husbands or friends.
Receive free ground shipping through November 30 with code MWS1108.