The following is a paid Advertorial from Goober Baby: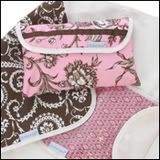 Goober Baby has what every hip momma needs to take care of her baby, while maintaining her own individual sense of style. Designed for the modern mom, we use hip exterior fabrics, soft linings and chic patterns across our uniquely designed collection.
Can't find what you need at the bottom of your purse or diaper bag? The Goober Baby Tote Bag is a stylish and functional bag with a clear front, allowing you to stay organized when carrying baby's essentials. The Goober Baby Change Purse is a gorgeous fabric wallet that holds wipes and a few diapers, fitting perfectly into your purse or diaper bag. Beautiful and velvety soft, the Go Baby Change Mat conveniently folds up to hold your baby's wipes and diapers, or to simply roll and tie up.
Mix and match our color-coordinated printed fabrics and express your own individual style. Lines include Sorbet, Lemon, Coffee and Candy.
Visit www.gooberbaby.com to find your favourite collection – Free shipping with the discount code 'style07' (expires September /07).