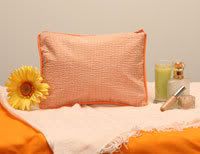 The following is a paid Advertorial from Lapin Vilardi:
No matter what age your children are you can never have enough spill proof and leak proof bags. Dirty clothes, wet bathings suits and soiled nappies are just some of the obstacles that mom's have to tackle on an hourly basis. But just because you are a mom doesn't mean you have to sacrifice style or function. And let's face it all those plastic baggies that end up in the waste bin just aren't practical not to mention environmentally unfriendly.
With Lapin Vilardi carryalls, you can simply use, rinse or wash and reuse all of their cotton and waterproof carryalls. Click here to check out the laundry bags, the perfect size for packing a spare change of clothing when their favorite juice ends up on their clothes and not in their tummy. The bikini bags are perfect for wet swimsuits after a day at the pool.
So now, you can spend more time enjoying your children and less time worrying about what to do with spills.
Use coupon code 15% off with code MOMWITHSTYLE.