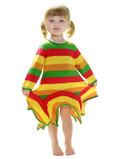 The following is a sponsored advertorial from Nubius Design:
Green is the new black! Or make that red and green this holiday season with a gift of organic cotton in cheeky styles and colors for mix and match fun all year round. Designed by the same gal who started Burt's Bees, this new line combines comfort, quality and super-cute style into eco-friendly, toxin free fabrics and dyes.
These cheery colors will brighten up the chilliest day, and kids love the soft comfortable styles. Order today in time for the holidays and receive 15% off with coupon code MWS15. Learn more about the benefits of organic cotton at www.nubiusdesign.com.