The following is a paid Advertorial from Nubius Organics: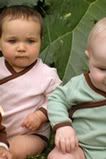 New For Spring!!
Kate Quinn Organics new spring line is made from super soft, high quality organic cotton. Our precious pastels are just in time for Easter! Offering the best in contemporary kid's clothing design, Kate Quinn Design lets you care for the future of our planet without sacrificing comfort, quality or style. Best of all this is the softest cotton ever!
Why Organic Cotton?
Chemicals used in cotton production account for 25% of global insecticide use. These pesticides are highly toxic, and common fabric treatments and dying processes add further poisons and heavy metals into the water supply and onto your skin. The toll that this takes on our environment, our drinking water and the health of farm workers is staggering. In contrast, organic cotton has all the benefits of organic agriculture, in addition to providing stronger, healthier cotton. Organic Cotton, it's better for baby, better for the earth.