The following is a paid Advertorial from Zutano: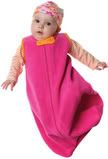 From the Zutano Cozie collection, this is a must have for the newborn in your life. This adorable snuggle sack is a sleeveless style with a full-length zipper; covered at the chin by a soft, snap closure. Designed with a lot of wiggle room so baby's little feet can move freely. Each snuggle sack is trimmed with complimenting cotton interlock color and is approved as a sleepwear garment. Available in one size fits all and an assortment of eight colors: Tangerine, Pink, Periwinkle, Fuchsia, Cream, Chocolate, Chambray and Aqua.
A perfect solution for keeping baby comfortable, cozie and stylish this spring.
Go to Zutano.com to find the e-tailer or retailer nearest you.