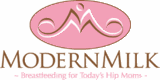 Here's a nice little portal for all of your breastfeeding needs: ModernMilk.com. They have a store that sells all sorts of important breastfeeding accessories like pumps, Hooter Hiders, breast pads, storage accessories and more.
They've also got a nice resource section too where they provide tips and stories, links to related news-articles about breastfeeding and a forum for all breastfeeding chat.
Use coupon code MWS to receive free shipping on orders over $25 on the store.