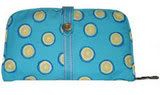 I'm counting down the months until I can take quick trips out with just a diaper clutch in hand. (I have awhile to go!) A recent diaper clutch product I've seen that I'd love to use someday is by Anniefrannie's and sold on Lollipop Kisses.
The Anniefrannie's Diaper Clutch holds 2-4 diapers and a case of wipes. There's also a small pocket inside that'll hold your driver's license and a credit card – so you can literally take this clutch out without anything else other than a set of keys. (And speaking of keys, there's an attached key chain so you can clip your set onto the clutch.)
It comes in some fun prints and it closes together with a strap and little button that is there for function but also makes a fun little embellishment.
Use coupon code MWS10 for 10% off this purchase, or anything else on the Lollipop Kisses website.