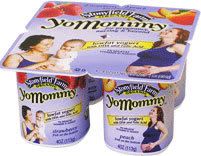 My son is a yo-a-holic. No kidding. He loves it. But he's picky. He only loves Stonyfield Farm's YoBaby Yogurt. There's something in the creamy, organic mix that makes him calm, makes him happy. At 2 and a half, you'd think he'd be past yogurt, really. Just how many days can a child eat Yogurt?! So, finally, I tried it. And, you know, he's right. Its creamy. Its yummy.
Wes started eating Yogurt around 9 months. But Stonyfield Farm recently introduced YoBaby Simply Plain. A yogurt approved for babies 6 months and older. Its meant to be an organic easy first food. FIRST food. An introduction to bigger, harder to swallow foods, Simply Plain acts as a transition between formula or breast milk to solids. Its totally healthy and naturally, and includes no sugars, colors or chemicals.
But Stonyfield didn't stop at 6 months. They now offer YoMommy! yogurts: for the Mom-to-Be. An organic, lowfat yogurt, YoMommy! helps pregnant women meet their nutritional needs. It also has an added bonus of DHA and probiotic cultures. I passed my coupon on to a pregnant friend to try out. She enjoyed the flavor and loved the health bonuses.
Try out any, or all, of Stonyfield's Yogurts. Enter your e-mail address to recieve coupons for the entire line: good at your local store.


Stonyfield is also working globally. They recently launched a donation program: click on the baby image here and Stonyfield will donate $ to the Environmental Working Group in its mission to keep harmful chemicals out of our food. You'll also be able to print a free guide to pesticides in produce: a pocket size guide listing 12 fruits and veggies with the most and least amount of pesticides.
Stonyfield will donate up to $20,000 for 20,000 clicks. So click and click and click!