Beyond playing, exploring and enjoying the gorgeous amenities of the Riviera Maya's Azul Sensatori, we spent quite a bit of time eating and, thankfully, relaxing.
On site are 6 restaurants, and all are included in the Gourmet All Inclusive program. On the whole, we found the restaurants fab as they offer a large selection of different faire at atmospheres. Each of us, of course, having a favorite by week's end. Below, I'll share a few tidbits for each restaurant.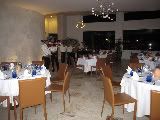 Beyond eating (and we sure did eat. I ate so much that at 11 weeks pregnant, I was certain I looked 5 months. Honestly, as I'm now 6 months, I didn't look 5 months then. But after eating all I could eat, I couldn't fit in one of my dresses so I easily blamed it on my pregnancy) what you really go to a 5-star resort for, on the beaches of Riviera Maya, is to relax. And what better way to relax than at the spa?

The Vassa Spa at Azul Sensatori was devine. On the top floor of the main building, visitors enter to a welcoming area with 4 semi-private seating areas where you can consult with your therapist, technician or stylist. Following check in, guests are lead to the locker room where they're offered a robe and OKAb sandals, a private locker and some quiet time. Make certain to arrive early to take advantage of the glamourous solo-jacuzzis. The zen-inspired spa is at its best this area, what I recall best is the feeling of a posh, but natural spa "bathing" area. Its actually a complimentary Water Ritual. Read about it here. I truly missed out on trying it. (Note that while the Ritual is complimentary, there is a daily spa fee, for those not getting another treatment.)
In a rush to meet my husband for our first-ever couples-massage (courtesy of the resort) I skipped the jacuzzi and reported to the meditation room–much more my "thing". Once there, I was treated to a minty tea (yum! Wish it was available in the gift shop) and nuts and berries. My feet were propped up, my neck was wrapped in a soothing warm neck-roll and I closed my eyes, awaiting my personal (okay, couple) oasis.
The large floor to ceiling window of our spa-room overlooked the gulf, giving a feeling that we could nearly walk out to the terrace and dive right in. Our massage started with foot therapy, and, after selection of our oils, we were led to the massage. My husband may have fallen asleep. It was that relaxing. Also in our room was a stone tub with rose petals and another meditation area. I would have loved to have used both, but they weren't included in our treatment.
Of course, also in the spa are plenty of rain-showers, each covered in marble-tile. (Following my treatment, I wanted to stay in my shower for.ev.er. Alas, all good things must come to an end.)
Also in the spa are a generous number of mani- and pedi- stations and hair areas. They have a private bridal room, where brides are given their full treatments for the day of their big event (an average day will host one or two destination weddings at Azul Sensatori.) And for moms of little divas, you'll love that there are children and teen spa packages, with a room for the child's first spa treatments. Yes, kids as young as 6 really do get treatments, they were so popular at other Azul hotels that this room as well as child-packages was included at Vassa Spa.
Attached to the spa is th workout center, with many, many top of the line machines.
Dining:
From 6 Gourmet Inclusive restaurants to choose, the problem for mosts guests is determining which restaurant to go to next.
Be sure to book a sitter and head over to the adult-only Le Chique. Your evening will begin with a kitchen tour and a sampling of food right there in the kitchen, while you chat with the chef about your surprises ahead. While you can order off the menu, why would you? Le Chique is known for their truly innovative 8-course author's dinner, a mean created by the chef that introduced us to many new flavors and ideas. A very creative meal indeed. I was a bit annoyed because there were children (toddlers and babies, really) at the restaurant. They were not served food and they were in strollers, but the atmosphere, not to mention "rules" were definitely not followed during our dining experience. They also say dress is "eloquent" and the huz and I were dressed for a great night out… so seeing jeans and shorts (with a t-shirt no less) was disturbing. Of course, their extensive wine selection, unique atmosphere and unbelieveable creative menu made it all a breathtaking evening.
Touted as the resort favorite, Siena is the Italian restuarant. Decorated as a bistro in Italy, they have outside and inside dining, an extensive wine area and a large, comfortable waiting area. Traditional Italian and Italian-American dinners are cooked in a stone oven with handmade pastas and pizza selections. We're not big Italian eaters, so this one wasn't our favorite.
Tapaz is similar in concept to Le Chique, in that you get a lot of small tastes in your meal. This is a modern, casual restaurant where children aren't necessarily encouraged, but kids do love the food (so much of it is finger food and mini-tastes, its totally up their alley!) It wasn't necessarily a filling meal, so I recommend a bigger lunch the day you go to Tapaz, but we enjoyed the many tastes were got. This restaurant probably had the poorest service, several tables were "forgotten", which isn't helpful when your courses are so small and you're expecting more and more and more to eat. As I said before, there is a definite learning curve when a new resort is opening.
The kids' favorite restaurant, without question, was Spoon. They're still asking to go back. With an open-kitchen and cafeteria style selection, the kids loved the many choices. Spoon is open breakfast, lunch and dinner with different entres each evening, along with returning favorites. This restaurant was definitely the most casual, shorts and t-shirts were fine here.
I've left my 2 favorites for last: Zavaz and Zocolo. At Zavaz, the Carribean Bistro, guests dine for breakfast, lunch and dinner. A with a buffet and light to medium Carribean faire, I enjoyed the casual, nautical-Carribean ambieance, but not as much as the food, which was, beyond a doubt, delicious. Zocolo, open for brunch, all day lunch and dinner, has typical Mexican food choices (note, not Tex-Mex, but true Mexican.) A buffet is avaialble to complement your entrees and apps. My 3-year-old found a love of guacamole as it was introduced to him at Zocolo. We went back several times just for more Guac tastings. Both Zavaz and Zocolo offer indoor and outdoor dining with a light, casual atmosphere. Whenever dining was my choice, these were the places I selected to return.
Three swim-up bars, lounges and a beach bar (that serves a beach barbeque at lunch time) as well as a roving hot-dog and hamburger stand, make up your many options in the Gourmet Inclusive plan.
In addition, guests can pay extra fees to dine on the beach and room service is always available (for free). The Azul Website touts that pool waiters will bring you food during the day. Unfortunately, we were told this service was not available, infact they wouldn't even allow us to take food from Zocolo to our pool chairs.
There is so much more to the Azul Sensatori. If you go, make sure to take advantage of:
Photo shop: includes all photo necessities and more:Mexican-inspired picture frames and albums, cameras and accessories, and other electronic devices and accessories. Additionally, a roving photographer takes family pictures throughout the resort and can be booked for private photo sessions. A package costs $130 USD and includes about 40 pictures shot by a professional photographer, a CD collection of these images, 10 of your favorites printed and inserted into a Cancun-themed scrapbook album.
Museum: The hotel doesn't boast about their museum for fear families will be turned-off by the education on a vacation. Instead, visitors are surprised by this tiny gem. A donation to the resort included trilobite fossils of a little-known water dinosaur, indigenous to these Mexican waters. Fossils range from just inches to about a foot in circumference. Displayed with class in the same Carribean-contemporay style as the resort, this small display offers a diversion and discussion for families, especially on a rainy day.
Shuttles: Shuttles to Cancun (20 minutes) and Playa de Carmen (30 minutes) depart daily (alternating destinations every other day.) Costs are $15 per person, round trip.
-Not to be missed: the saxophonist who entertains throughout the afternoon and evening around the premium and Azul pools. He can be heard playing a comforting jazz from your balcony and room, as well as those enjoying the early evening lounging at the pool and partaking in libations at the Wave bar. Although Waves is only open through 5:00, the saxophonist plays until 7 pm.
Now, I know, swine flu and all, we're staying away from Mexico right now. But I'm certain the tourists will be streaming back to Mexico soon… and well before pigs fly.
Read more about Azul Sensatori the other reviews in my series:
Welcome to Luxury
Azul Sensatori: A gorgeous family vacation spot
Azul Sensatori: So what's it like to sleep there?
Azul Sensatori: Play, Play, Play