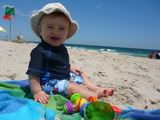 It's so hard to believe that Cole's 8 months old. Being in the hospital to have him seems like an eternity ago, but at the same time I can say that the time is flying. It definitely goes much faster the second time around. I know it's because we're always so busy and running around with our already established schedule.
It's also been awhile since I gave one of these little updates with our "everyday" baby products, so I thought I'd provide a list with updated news.
We're still going strong with the exersaucer. Unlike his brother, he is not big on the doorway jumper (his brother lived in that thing), but he still adores Julie's exersaucer. I'm sure his time in it is now limited.
Food is a new experience for us. "New," in that his brother would eat anything and everything we put on a spoon. Cole is much picker. He has decided that baby food is not for him, and only wants "
adult" food, or food that he can chew. Which is amazing considering we only started "food" two months ago. His favorite this week are these Organic Sunny Days snack bars from Earth's Best. I can't even get the kid to take more than 3 bites from ANY flavor baby food, but he'll gobble up one of these in less than 10 minutes. He loves a lot of the Earth's Best products (and our favorite family snack are the Sesame Street crackers). You can find a lot of their products on the ShopNatural.com site, if you're looking to buy online and use coupon code SNBABYMWS for 10% off your order on anything on their site through September 20, 2007.
I also recently broke out the tubside seat. I don't know why I was pushing the infant tub seat for so long, as he was clearly uncomfortable in it. He's now upright in the tubside seat during all bath times and he loves it. Unlike his brother at the same age, he adores the water and giggles with glee every time he splashes himself in the face. We used this tubside seat from Babies R Us with his brother and are using it again with Cole. (We even found multiple uses for it – it came in very handy at a recent trip to the beach when we put him in a blow-up pool on the deck!) You can find it at Babies R Us and they are currently offering $3 off on any bathseat/bath tub.
Other news: he has two teeth! And as you guys can see from the photo(Old Navy hat, Old Navy surf shirt, bathing suit borrowed from Julie's boys), he loves the sand. I was hoping for one of those babies who doesn't like to get his feet or hands dirty with sand but no such luck. Sand is very amusing to both roll around in and eat in our house.