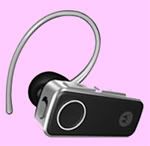 As I blog about this product, I wonder where my life was before I had this. It's sort of the same feeling I had with my iPhone or my computer. This falls into the catetory of "little technological items that make my life a whole heck of a lot easier that I can't imagine living without".
So recently I was on the phone with my Mom. Everyone reading this review can picture it because you've all been there: two kids screaming over a toy in the background, me trying to load the dishes, the cats screaming from the water bowl and me with just not enough hands to get done what needs to get done. As usual, I tried to end the conversation with a quick "I have to go," out of mere frustration.
My Mom remarked, "You know Whit, you should really get one of those hands-free headsets like Dad has. Then you could talk all you like and have two hands to deal with your life."
Since I'm anything but a hard sell and it was a brilliant idea I hadn't really given much thought to, I ended up in the AT&T store later that afternoon looking at all the Bluetooth products for my iPhone. I ended up with this piece – a Motorola H6880. It was one of the moderate priced pieces $79.99 at my local AT&T store) but the guy told me it's one of the best in his opinion.
I love it. I find myself using my cell at home instead of my home phone because it's just so convenient to be hands free. I'm on the phone a lot – some for work, some not for work, but there's always that constant of craziness in the background and freeing up my hands has made such a difference. I've been using it in the car and even walking around the mall. (Okay so my friend Rachael told me I look like I'm talking to myself but you know what, I really don't care.) I urge every Mama who talks on the phone often and any level of craziness in her life to get one.
So chances are, your phone has Bluetooth. (It's the technology that allows you to go wire-free) If you want to read up about it, you can check out this Bluetooth FAQ on the Motorola site.