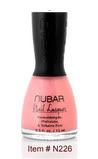 It wasn't until I was pregnant this last time around that I even heard they made formaldehyde-free nail-polish. One company where you can find chemical-free nail polish is By Nubar.
Their nail polish has zero Formaldehyde, Toluene or (DBP) Phthalate, all toxins which, according to their website, have caused cancer and reproductive defects in animals.
Why expose yourself to these toxins? With options like by Nubar, you can look good and be safe. It's $6.99 per jar of nail polish. Use coupon code MWS0107 for 25% off your order over $40.