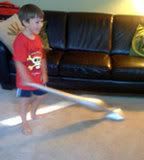 My normally disgusting floor has been immaculate lately due to the recent addition of a Kruz Dirt Devil. Yah, I have a Roomba and a vaccum. But with a toddler who thinks the best thing since sliced bread is to drop Goldfish [or insert other crumbly snack here] on the kitchen floor and then stomp on them and giggle, you can imagine the state of my floor on any given day.
So even though "Rosie," (our Roomba) gets run each night, that doesn't help with the hourly floor problems. We got a Kruz Dirt Devil for those in-between times. It's a cordless vaccum with a sleek look to it. It hangs out in the corner of my kitchen and rather than being an eye sore it seems to blend right in. It sits in a charging doc so it's always ready go to.
It works on hard surfaces and is shaped to reach hard angles. But the bottom line for me is that it's cool-looking and quick – quick enough that I can grab it, run it over the floor after lunch and have a relatively clean floor again in 60 seconds or less.
Oh and the child labor aspect, that refers to my 4.5 year old, who thinks it's the coolest and runs it any chance he gets. Seriously. At least 10 times a day he's running it in our kitchen because "Mom, you missed a spot," or "I found another spot of kitty hair." Unsure how long this phase will last, let's hope awhile.
It's $109.99 on the Dirt Devil site, or find it at a local retailer.