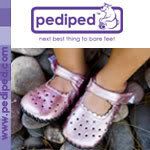 So I just got the baby a bunch of shoes from Pedipeds. With his big brother, I only did a couple pairs of Robeez early on – and I never really loved them, look wise or other. Not that there is anything wrong with Robeez – they have a quality product – but I've never been a huge fan of the soft-soled look on babies. But as this site grew, Julie became the guru on soft-soled shoes and I kept hearing her talk about PediPeds. So when I recently had #2, I knew I wanted to check them out.
So I got a couple pairs to use with him in the summer and fall. I really love the look. They are soft-soled, which is important with babies who are learning how to walk. (As they grow and learn how to walk, if your baby has to be in shoes instead of being barefoot, soft-soled is recommended due to development purposes.) They have black soles that are stitched on (cute), and 100% leather. They got up to 24 months. And love that they close with velcro and not elastic – seems easier when slipping them on and off squirmy feet. And personally, I think the styles are really classic looking.
Use coupon code mws3 for free shipping.