My son's newest love is so soft and cuddly! It knows his name and says hello to him. It melts my heart when I see how excited and happy he gets when he sees and hears his new pal. It plays his favorite songs, stories and games! My son carries it around everywhere, even in the car. It keeps him occupied at home and on the go. Doesn't this sound like an amazing toy? It's a brand new adorable animal that measures 13" tall and is so squeezable and loveable that even my daughter loves holding and playing with him! She loves playing "Simon Says"!
Who is this, you ask? What is this fabulous toy that can keep my child occupied at home and on the run? The answer is Smart-E-Bear and Friends!
Smart-E-Bear utilizes electronics that are about the size of a deck of cards and the unit stores inside the bear. The device is surrounded by plush softness so that your child does not feel the device at all. You can turn the bear on and off with the device and even control the volume, which is a nice feature to have. You simply hook the device to the included USB cable and connect to your computer. You can then customize the bear's responses with your child's name, favorite music and stories from some amazing artists. Your child can then play with the bear by pressing his hands and feet to respond. If your child is not ready to engage the bear, there is a shuffle mode that you can select instead. There is also an online store where you can purchase additional songs and stories, starting at $.99. Also available is the Smart-E-Dog and the Smart-E-Cat. All three animals can play your choice of languages as well. It's won the NAPPA Gold award, was a Dr. Toy's Best 10 Technology Toys and Best 100 Products and won a Greatest Products award from iParenting Media Awards.
If you would like to purchase one here is a list of online retailers that carry them. Amazon has the bear on-sale right now for 70% off!! The Cat is also on sale. Currently, the Dog is not. If you are a member of Costco, they have a great price on them! These amazing, soft animals will be your child's companion during playtime and bedtime for years to come! It is a Top Holiday Gift Pick for 2008!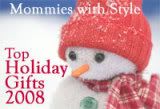 Just in time for the holidays, we will be giving away one animal to be chosen by the winner. Choose from a Dog, Bear or Cat! All you have to do to enter is simply subscribe to our weekly newsletter by subscribing through this link. You'll then be entered to win, plus you'll receive our weekly newsletter – full of deals, coupon codes and review features. If you're already subscribed, then you're all set. This contest will only run for 3 days until December 12th. So don't delay – sign-up today! One winner will be notified and will have 48 hours to claim the prize.