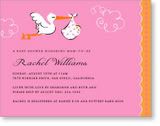 Why waste a magnet when you can make your actual card magnetic itself? The unique selection of invitations and announcements from Cluu Design stick straight to the fridge.
I love it – it saves using an extra magnet and it gives the invites a nice clean look. Plus, the designs themselves are beautiful. They come with envelopes and don't cost extra to mail out.
You will receive 10% off when you use code MOMSTYLE07.