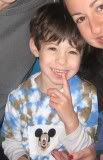 We just got back from a family trip to Disney World last week, and for weeks prior to leaving I was on a quest to find the "perfect" shirt for my two sons to wear while down there. I love tie-dye, and the combination of tie-dye with Mickey Mouse was perfect for me and my sons.
Pam at The Pink Monkey made my son's shirts super-fast and the shirts were so adorable. We got a number of compliments while there on our Mickey shirt! (FYI, Minnie is also available!) Made on American Apparel shirts, each shirt is hand-dyed and hand-made. Choose any color and any kind of appliqué. The Pink Monkey also carries adorable heart tutu dresses and rhinestone apparel for those of you with girls.
So if you are planning a trip to Disney, or just want some great, unique, hand-made clothes, check out the Pink Monkey! Use code MWSWinter08 to save 10% off of your order.