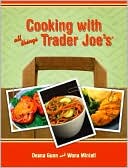 I am all about efficient, easy cooking. I have tried the make-ahead meal places, frozen food, and various cookbooks. And then I found Trader Joe's (or TJ's for short). I love this place! Lots of gourmet foods, ready-to-use items, like washed and cut veggies, gourmet cheeses, marinated meats, frozen delicies, and much more. I love that the items are inexpensive, often organic and nutritious.
And then I discovered "Cooking with all things Trader Joe's" — a fabulous cookbook written by two huge TJ fans (not at all affiliated with the store). This cookbook is perfect for those of us who love to eat healthy, nutritous, home-cooked food, but lead busy lives and have trouble finding the time to make these types of meals.
The idea behind this cookbook is combining fresh items with already-prepped items (that you can easily find at Trader Joe's) to create easy, quick, home cooked meals (all in about 10 minutes!) ALL items in the cookbook can be purchased at TJ's, and every recipe has a real photo (not professionally styled, the real thing!).
There are tons of recipies to choose from, including appetizers, soups, salads, and light meals, main meals, side dishes, desserts, and drinks. There is even a chapter for "bachelor quickies" which you can use when you really have no time. I tried a few different recipies — each very easy and delicious. The Soyaki Broiled Salmon was amazing and only took 6 minutes (and I never knew how to use my broiler with fish until I tried this recipe!), and the Peanutty Sesame Noodles made a yummy and healthy side dish. We tried the roasted garlic recently at a party and it was a big hit. I am excited to try even more recipies in this book!
Want to try out this book with your family? Let us know your favorite TJ item(s) (hey, I would love to hear so I can try it out!) in the comments field below and one lucky winner will get a brand new cookbook shipped directly to them. (We'll pick a winner at random on June 12th, winner must respond within 24 hours). Can't wait and want a copy of your own?  Use code MOMMYSTYLE to receive $10 off your cookbook purchase. And for some enjoyable reading, check out the author's cool blog, featuring some more great recipies and interesting food-related information!