Last January, we got a Wii. Soon after, I reviewed the Go, Diego, Go Dinosaur Rescue game for the Wii. It's an ideal game for a preschooler.
For starters, Diego can't "die," which makes it a lot tamer than most electronics games. If he goes to close to danger, the game simply has him hanging on the edge on his toes until the player pulls him back. Also, this game includes a little window in the left hand corner of the screen that instructs the player on how to hold the Wii remote and what to do. It's a fabulous introduction to playing with a Wii and using the remote. At the time of my review, it was selling for $49.99 but now that it's been on the market for awhile – it's listed at $17.99! This is a steal and a great deal for the holidays – I definitely recommend this game for young Wii users.
And new this season to the Wii is Dora's version of this game – Dora Saves the Snow Princess.

It's pretty much the same concept of the Diego game with a very similar feel and interface, only it's Dora and she's on a mission to save the Snow Princess. You'll battle Swiper along the way instead of the BoBo brothers and use Backpack for help instead of the Rescue Pack. Again, tons of fun and great for the younger Wii users.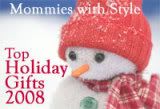 It retails for $39.99 but is selling for $36.99.