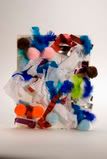 I have to be one of the uncraftiest Moms I know. Art was definitely not my forte in school, something made only slightly worse by the fact that my grandmother was a talented artist, as is my mother when she actually draws or paints something. So you'd think given the DNA thing, I'd be able to draw a picture of Dora that my child would recognize. Alas, it's not so, this Mommy got the recessive artistically-challenged trait. And sometimes I see all these other mothers going to A.C. Moore or Michaels and coming up with all sorts of fun rainy day projects and I'm just at a loss.
So when I recently heard from FunWellDone.com, a great little site and service that makes creating projects with your child incredibly easy, I was interested to check them out. They've done all the craft store shopping and organization for you. In short, we loved it.
We did this Sticky Foam Collage, which is meant for kids in the age range of 1.5 years to 4. Everything came ready for us – a sticky foam page, ribbons and pom-poms for us to put on the page. We did it one rainy afternoon and it was a big hit here. I literally did not get out a thing – didn't even have to get a pair of scissors out. A page of instructions is included for those of you who are challenged like me.
They have all sorts of fun projects – and the price is great. $9.99 for most of them, which is much less than you'd spend buying all the supplies at a craft store. And they're cute! Check out the Bumblebee and the other projects.
In addition, FunWellDone.com sells party favors – one small project, again, no materials needed. We sampled the Funky Penguin and the Fabulous Flower (which makes 3 flowers). We did have a hard time getting the Penguin to stay together (a little too excited with that one) but the flowers were a huge hit – and super easy to put together. I love the idea of these for a party favor – who needs one more party favor from the usual places? And it encourages creativity in your child.
Use coupon code MWS for 15% off your order of anything on the site.