I'm so ready for spring, I'm pretty much bouncing off the walls around here.  The last few days, it's been in the 50s her in Philly and I've been dressing for spring even though the weather's not really ready yet.
Boden's having a sale right now – 15% off plus free shipping, just click on the "15% off" to put the code in your cart.  I love this Crossover Jersey Dress in green for the spring.  It's $108.00 before the discount.
I love this outfit from OldNavy.com.  The Ruffled Chiffon Sundress is $34.50, the T-strap sandals $19.50, the Media Necklace $14.50 and the Women's Linen Moto Jacket is $34.50.  Buy online or print out this Old Navy coupon and go in-store and get 30% off with the big Give & Get campaign.  Get 30% off your purchase and 5% of your purchase will go to Habitat for Humanity.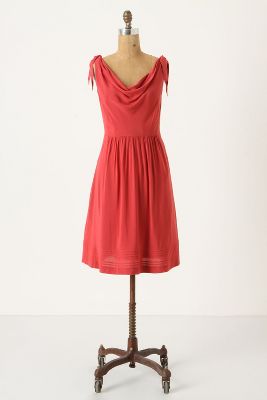 I heart this Tied Down Dress  from Anthropologie.  How great is the coral color?  You can definitely dress this up and down for a normal day out for even the evening.  It's $98 at Anthropologie.
Another thing I'm excited for this spring:  capris!  I have been staring longingly at my capris in my closet for weeks.  Here's a pair of Capri jeans from Citizens of Humanity – $178 at Nordstrom.com.
I love Kohls.com for my t-shirts.  You can get some really hip and fun designs for affordable prices there.  This Daisy Fuentes tee is on sale for $14.99 at Kohls.com.  They also have a coupon code out right now – use coupon code THANKS2281 to receive an additional 15% off.
Check out these other great Fashion Friday posts from around the web: