Next week I'm taking off for New Orleans and Mom Blog conference Mom 2.0.  Per my norm with any blogging event, I've got the whole "what will I wear?!" thing going on.  I don't panic so much as get a bunch of happy anticipation over the whole thing.  I actually really love to have the excuse to figure out some fun work-related outfits and to maybe *cough,cough* shop for something new.
But also around the time that the conference nears, I see a lot of people truly getting worked up about what to wear.  Going to a blogging conference can be stressful for a lot of reasons, especially when you're mixed in with a bunch of very fashionable and forward-thinking Moms.
I stopped truly feeling nervous ages ago and started going with what I'm comfortable with and embracing my own sense of style.  The best advice one can receive – be yourself.  I'm not saying you should wear a pair of sweat pants if that's what you like to do when you're on the couch, but there's also no reason to bust yourself in a pair of four inch heels when you never wear high heels.
And when all else fails, I go with something classic and simple.
Black Pants are my go-to when I just can't figure anything out or want to just be 100% smart-looking.  I have these Marisa Pants from Ann Taylor Loft.
They're $69.50 but if you use this week's 30% off Friends and Family discount, well, you'll get more money off.  Use coupon code FRIENDSAF to receive your 30% off by end of day April 10th.
Paired with this Pleat Neck Blouse from the Gap – it looks sharp and smart. Gap also has a great coupon code going on right now – use coupon code GAPNEW to receive 20% off your order.
The Pencil Skirt is a elegant and slimming.  This Presentation Skirt in Linen from J. Crew is $98.00 and would work with a number of tops.  It must be the week for coupon codes because J. Crew has one out too – use coupon code SUNNY to receive 20% off your order of $150 or more on JCrew.com.
And wouldn't this Skylark Blouse from Anthropologie ($88) look perfect with the J. Crew skirt?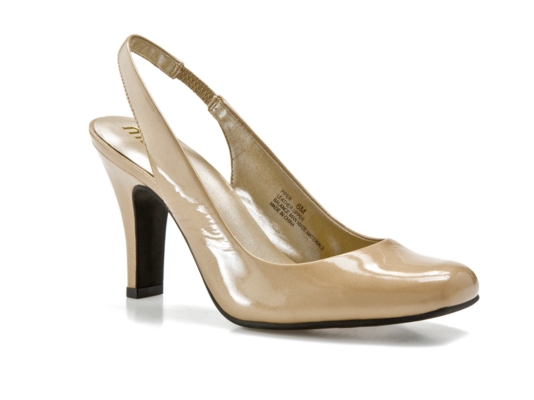 Plus these Me Too Piper Pumps in Nude from DSW.com for $59.95 and you're good to go!  Use coupon code PUDDLE through April 11th to receive a free umbrella with purchase through April 11.
More Fashion Friday from Around the Web: