While I do spend some time each fall lamenting the end of my flip flops and skirts, there's one thing I look forward getting to wear each fall and winter — fun accessories and jackets.  I just love to spice things up with a cute scarf or thin jacket.  Here are a few items I've been drooling over lately: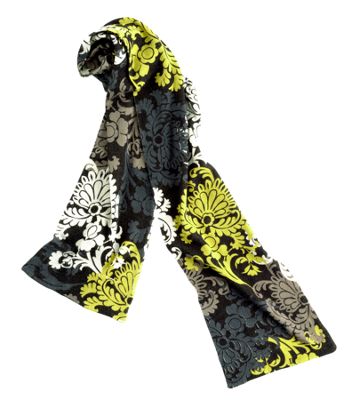 This Knit Scarf from Vera Bradley is beautiful, right?  And totally reasonably priced at $38.  A great Christmas gift for sure for any woman on your list.
Last year, I started wearing headbands to the gym to deal with my crazy exercise hair.  Only I found myself wanting to wear these stretchy bands at other times and I've been on a hunt to find every day, cute headbands.  Love this Bloomin' Headband for $32 from Shabby Apple to add a little feminine touch to your outfit.   Use coupon code SA5offpocketcoupon to get $5 off your order.
So it's a little tough to resist Nordstrom's Half-Yearly Sale that's going on right now.  Tons of great product are marked down for the taking, like this Gallery Single Breasted Trench in a fun fall Green color.  Normally $148.00, it's marked down to $98.90 with the sale.  Use coupon code HOLIDAY10 to get free shipping on any order over $100 at Nordstrom.

Been dying to try out over the knee boots for awhile but I'm nervous about my "runner's calves" that don't always fit into boots.  Still, these Dollhouse Women's Talana are definitely tempting at $89 PLUS 15% off and free shipping with coupon code FALL2010.
Other awesome Fashion Friday posts: