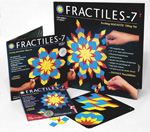 These toys are totally up my alley. Err… my 5 year olds' alley. Big on math concepts like patterns, spacial relations, fractions, symmetry… and if you get really into it, you can use it to teach algebraeic relations (seriously… 10 years ago, I would have gotten bonus points from my grad school math prof. for typing that last one!) But you can. During "quiet time" a few days ago, I gave my son a set of Fractiles, a set of colorful,magnetic shapes with a magnetic board. He created and recreated and recreated. He started copying images that were in the accompanying instructions. Pretty soon he was off and creating his own.
He's really into building and creating lately. He can spend hours with Legos and wooden blocks. So it wasn't a surprise that he took to Fractiles so quickly. And we both loved that I didn't have to come in every time he created something. Because they're small and magnetic (with a board) he could come to me with his creation.
And, super bonus, they'll be great for our upcoming road trip. Self-contained, hours of creativity and fun. Gotta love that. Check out the are great game suggestions on their website.
Through May 31, 2009,customers can save when placing a phone order only. Please call the toll free number 877.277.3201:
$5.00 off each Large Fractiles
$3.00 off each Travel Edition Fractiles