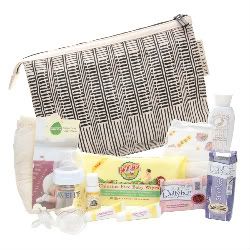 This is a pretty sweet deal. Fab designer Jenni Kayne teamed up with drugstore.com a little after having her first baby to create her ultimate mommy-bag. She didn't want a bulky bag to hang off her shoulder, but a larger clutch that she could fit under the stroller or inside her slouchy handbag. A chic, go anywhere, match with anything bag, it has elasticized pockets for bottles and snacks, and a generous center area to hold all you'll need for an outing.
Then there's the bonus, the bag comes packed and ready for a new mom with full and deluxe-sized samples for Mom and Baby, many from drugstore.com's Green and Natural shop. A sampling of the included samples:
Ø Philips Avent Silicone Orthodontic Pacifiers, 0-3 months and 4oz/125ml Bottle BPA-Free, 0-3 months
Ø Burt's Bees® Baby Bee® Buttermilk Lotion
Ø Belly-bar™ Vanilla Dreams Milkshake and chocolate bar
Ø Seventh Generation™ Diaper
Ø California Baby® Calendula Cream and Shampoo & Bodywash
Ø Earth's Best TenderCare® Chlorine-Free Diapers & Wipes & Resealable wipes pack
Ø Susan Brown's Baby™ Moisturizing Hand Sanitizer
Who can't use a little free, right? So, to get the bag and samples, you'll need to spend $75. Now, at first I thought, whoa… that's a catch. But, a virgin drugstore.com shopper, I then learned that my first non-prescription order over $25 will ship free and you can earn 5% back when you buy. Suddenly, spending $75 on everyday pharmacy items got really easy. And now there's another Jenni Kayne Baby Bag in my cart.
Note: Thanks to @ledermom (our twitter friend) for figuring out that you must have at least one mom/baby product in your cart to get the free item.