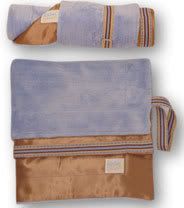 These days, I can always tell when something is a good baby product based on the actions of my 3-year-old. When it's something really great, Nate steals it away from his baby brother. A blanket from Gabe and Olie was his latest victim. I had it covering Cole in his bouncer one afternoon, only to notice a short while later that it was mysteriously missing. As I'm always multi-tasking about a bazillion things at once, I spent all of five seconds looking for it when I got sidetracked.
It wasn't until several hours later that I discovered where it had been moved to – Nate's bed. Aha! When I questioned him, I was told that it was his "new blanket" and that he and his friends (all his stuffed animals who also reside in his bed) needed it because it's "really soft." (And "blue. Buzz and Woody like blue, Mom.") Probably should have had Nate do this review as that pretty much nails the basics on the head – it's a soft blue, blanket.
But then again, Nate wouldn't add all the details a Mom can appreciate: gorgeous ribbon accents on the blankets, and the fact that one side is made of a soft chenille and the other a silky satin. And the additional feature that makes Gabe & Olie blankets stand out from other baby blankets: attachments that allow it to velcro to the side of any stroller, saving it from being fated to fall on the dirty ground.
Use coupon code "mommies" for free shipping on any Gabe & Olie blanket.