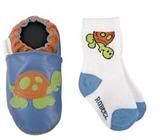 Who says you can't get anything for free? For a limited time, Robeez is offering free matching socks with select Robeez soft-soled shoes. Just as adorable as the matching shoe, continue the theme to warm up the little one's feet with Robeez FREE scocks. They'll be free until they're gone, so grab a pair now!
As always, Robeez has too-cute designs for baby's too-cute feet. My little guy is getting a kick out of their rockin' new collection: Robeez Rocks, which feature some edgier designs. Coming to stores and online in October, your baby will rock with fire-hot guitars, a mean bulldog, tattoo'd feet and a dangerous little devil. I'm sure you'll agree that the detail on these is fantastic. I love the bright mix of colors and the fine cuts.



Wesley's Rockin' Robeez are the pair with guitars on the black shoe. Now, you all know what a soft-soled shoe fan I am, but, now that he is in school I have to admit that I've been buying more rubber-soled shoes. Today, Wes discovered this pair of Robeez in his room and there was no question what he'd be wearing today. We even went rainboot shopping and he refused to try on anything else. He was SO excited… showed everyone his new shoes andkept admiring the design and the colors. What's more, we went to a park for a playdate. He didn't just wear them, he climbed more comfortably than ever before. He was up ladders, running through fields, jumping, sliding down the slides without getting stuck, playing in the sand… you name it. Even at 2, we remain devoted to soft-soles!