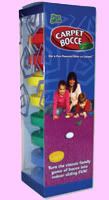 Bocce is a summer staple in our house; my husband has been bringing a bocce set to the beach for years. We've had bocce tournaments with all sorts of family members. Last summer, Nate got into it as well – although he only threw the ball about half the time, the other half he was running and kidnapping the "target ball" away in fits of laughter.
So I was happy to find this kid-friendly Carpet Bocce toy. I wasn't sure how it would actually work on the carpet but it does work beautifully – the game pucks seem to slide effortlessly across the room and they are very easy for little hands to push. I also love that the pucks and target puck are nice and big and baby friendly for my mouthy toddler.
Use coupon code DEC1007 for free shipping on the Carpet Bocce and anything else on the FunSlides site through December 10. They also offer carpet skates (great for older kids), carpet hockey, carpet air hockey and more.