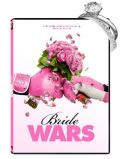 Hey Mommies – here's a cute little giveaway for all of us that remember the stress of planning a wedding. Enter to win a chance to win a copy of the new Bride Wars DVD, as well as a $25 credit to use as you please on the Paper Shouts website.
Here's a synopsis on the movie: Liv (Kate Hudson) and Emma (Anne Hathaway), best friends since childhood, are always there for each other, through good times and bad. They even become engaged to be married within a few hours of one another. Together they plan their respective weddings, each to take place at New York's ultimate bridal destination, the Plaza Hotel. But a clerical error and subsequent clash in wedding dates pits the two brides – neither of whom will step aside – against each other, in a competition that quickly escalates into all-out war.
To enter, post a comment about which characters style you relate more to—Emma's traditional, romantic style or Liv's couture, "only the best" approach as well as which Paper Shouts card you like best. To pick the card, go to www.papershouts.com and select your favorite card from the Bridal Shouts section and then come back and comment.
In addition, you'll be entered to win the Grand Prize: movie memorabilia such as the sunglasses worn in the movie by Kate Hudson and a movie one-sheet signed by Kate Hudson and Anne Hathaway and the Grand Prize is a great Mexican vacation—6 nights at the CasaMagna Marriott Cancun Resort and airfare for 2 on AirTran airlines.
This giveaway is open to US residents only.
Use coupon code MWSBW to receive 15% off your order on the Paper Shouts site. Paper Shouts designs hip custom announcements and invitations for baby, bride and you.