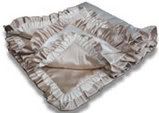 This week's giveaway is a gorgeous baby blanket of choice from Shootsie (you pick! The blankets retail from $122.50-$144.50).
To enter, simply sign up for the Mommies with Style newsletter. If you're already subscribed, you're already eligible. This giveaway will run through the end of the day next Monday, July 23rd. A Winner will be notified at that time, and will have 48 hours to respond once emailed.
Click here to subscribe to the Mommies with Style newsletter. And by being a member of the newsletter, you'll become eligible for future giveaways too — we have one a week for the rest of the summer, so your odds only improve of winning something, the longer you're a member.
About Shootsie: Our product's colorful hues, soft satins, and detail elements are designed to attract and retain a child's attention. As a parent, you can use a Shootsie blanket to teach early self-soothing skills to your little one, a crucially important skill development for our big world. Notably, while children revel in the all-over silkiness and luscious colors of these beautifully detailed blankets, parents appreciate the blanket's calming influence, washable satin and keepsake-quality. Visit www.shootsie.com to view the collection. Use coupon code mommieswag for a 10% discount.