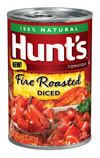 Hey guys – just in time for Superbowl, we have a food-related giveaway from Hunts.
Two winners will receive a Hunt's branded canvas bag, a pasta maker, stainless steel canister, Hunt's Fire Roasted Tomatoes, and recipes. Yum!
Register for the Mommies with Style newsletter by January 28th and you'll be eligible to win.