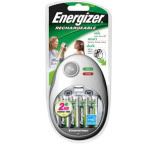 I must be on a housewares kick today (Clorox wipes earlier today) because here's another one I wanted to talk about: Energizer's new Rechargeable Easy Charger.
In our house, we take regular trips to BJ's (wholsale club). We buy packs of batteries in bulk there, because as I'm sure we all know, kids and kids products take a lot of batteries. (Moms with babies: you think it gets better after you put the swing and bouncy seat away, but it doesn't. Then come the electronic toys, not all of which come with recharging stations.)
So I was intrigued to check out Energizer's new line of Rechargeable batteries with stations. I got the Easy Charger – which fits both AA and AAA batteries inside of it. It plugs in and it has an auto shut-off for when it's done charging up your batts. Pretty nifty. I love the idea of not having to stock tons of batteries (or spending lots of $ on them)
The Easy Charger comes with 3 face plates too – so if you wanna get a little vain and match the face plate to your kitchen or room's theme, you can knock yourself out! You can read all about the line on Energizer's website. I found the product I'm using at Amazon, currently 67% off and selling for $18.09.
Of course the product's earth friendly too as you're not using and tossing batteries but using the same ones over and over again.