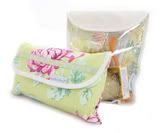 I last reviewed Goober Baby in October of 2006. They've since started offering products on their own site, as well as adding some new patterns. I just adore the new patterns – sometimes I see the same patterns over and over again with different products, so I'm excited when I see something stylish, yet different from the norm.
Goober Baby offers a Change Purse (diaper and wipe organizer), Changing Pad and a Lunch Tote Bag. The Lunch Tote Bag is one of my particular favorites as I think it's a nifty little organizer for all sorts of miscellaneous items in your diaper bag. I currently use it to store a spoon and a couple jars of baby food for whenever I go out. Before that, I filled it with infant toys. Each of their products are lined with a plush material that I seriously can't stop obsessively touching. In fact, I love changing the baby on the changing pad – I feel like he must never want to get up, it's so soft.
Check them out and use coupon code style07 for free shipping (which is nice as it comes from Canada), expires August 30th.