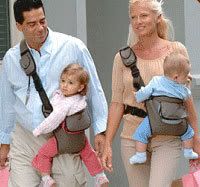 I wasn't big into the whole baby wearing thing the first time around. Part of it was due to the fact that I had a bad c-section and healed poorly – therefore those first few crucial weeks I couldn't really put any pressure in front of me. By the time I attempted to carry Nate (in a Baby Bjorn), he was four months old and 18 pounds so it just wasn't happening.
I've had more success with Cole, but I have to say, he's already getting heavy on my back at 3.5 months. I'm eagerly awaiting better head control so I can try the side/hip carry. One carrier that looks great for the side baby-wearing (and is super-trendy looking) is the Portamee. I've had my sister-in-law testing it out with her 8-month old and she just loves it. She had been complaining too about the added pressure on her lower back with the Bjorn and my growing niece, and since using the Portamee they've both been much happier.
It's padded for additional comfort, and simple to use. No crazy straps to confuse you, and quilted and padded for comfort.
It's sold in Nordstrom but you can also buy it online on the Portamee site. After ordering, email them on the contact page and reference Mommies with Style and this review to receive a free detachable insulated bottle holder with purchase.